In honor of Father's Day, we wanted to share the gift of hydration to all our hard-working dads out there to keep you on your A-game. We know we can pretty much beat you at any athletic competition at this point, but we can't have you being weak and dehydrated. Let's try to make this as fair as possible. This homemade hydration drink may not solve all of your mid-life crises issues, but it sure will give you an extra pep in your step. Whether you're hitting the golf course with the boys, relaxing by the pool with your kids, or throwing back some brewskis watching the World Cup today, this virgin margarita-tasting drink is sure to quench your thirst. I mean, Maurice Allen approves.
And, we think this goes without saying, but dads aren't the only ones who would benefit from this recipe. Maybe your trainer kicked your ass, your night out got a little too wild, or the sauna sucked every last drop of water out of you. Regardless, this homemade electrolyte drink is sure to revive you! With the launch of the new and improved Onnit Cafe and Smoothie Bar menu, we created this "CocoLime Rehydrate" slush to deliver the minerals you need to feel and perform at your best.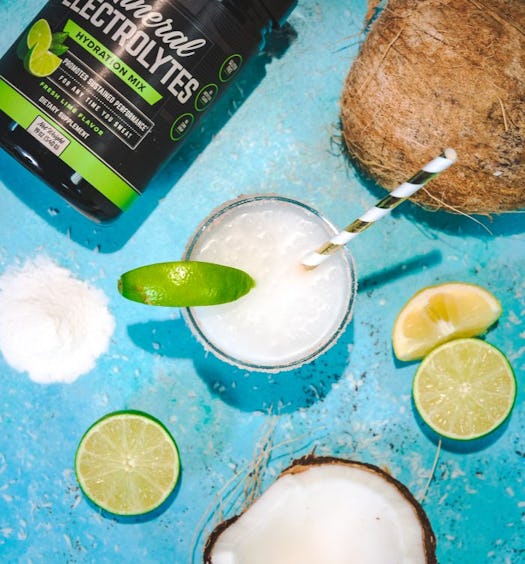 | | |
| --- | --- |
| Yield: | 1 serving |
| Difficulty: | Easy |
| Prep Time: | |
The "CocoLime Rehydrate" slush is designed to deliver the minerals you need to feel and perform at your best.
Ingredients:
10 oz. water or organic pure coconut water
1 scoop Onnit Mineral Electrolytes, Lime
1 tbsp. coconut Emulsified MCT Oil
1/2 lemon, juiced
1/8 tsp. Himalayan salt
1-2 cups ice
Directions:
Add all ingredients to a blender.
Pulse until a slushy consistency is formed.
Enjoy as a pre-, intra-, or post-workout refresher.