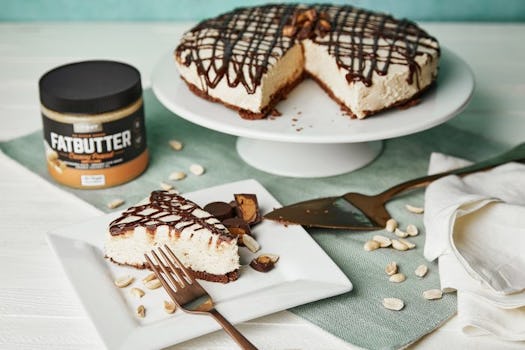 Keto PB Chocolate Cheesecake
| | |
| --- | --- |
| Yield: | 1 cake, 16 servings |
| Difficulty: | Medium |
| Prep Time: | |
| Cook Time: | |
| Total Time: | |
Ingredients:
1 ½ cups almond flour
1 egg
3 oz. grass-fed butter
3 tbsp. Stevia, erythritol, or sugar substitute of choice
2 tbsp cacao powder
Pinch Himalayan salt
¾ cup Onnit Creamy Peanut Fatbutter®️
20 oz. organic cream cheese, room temperature
½ cup granular Stevia, or sugar substitute of choice
1 tsp. vanilla extract
3 eggs
1 cup creme fraiche
¼ cup Lily's Stevia-sweetened dark chocolate chips
¼ tsp. vanilla extract
3 tbsp. coconut oil or grass-fed butter
Directions:
Remove the cream cheese from the fridge and their boxes to let them come to room temperature while you prepare the crust. Preheat oven to 350-degrees Fahrenheit.
For the crust: In a medium mixing bowl, add almond flour, melted butter, egg, cacao powder, Himalayan salt, and 3 tbsp. Stevia powder. Stir until combined.
Lightly grease the bottom and sides of a 9" springform pan with coconut oil. Spread the mixture in the pan and lightly press to the bottom to form the crust. Bake for 10 minutes. Remove from oven and let cool to room temperature, while you continue the remaining steps.
In a large mixing bowl, add the cream cheese, granular Stevia or sweetener of choice, and salt. Using an electric standing mixer, mix on medium-low for a few minutes, or until the mixture is creamy without clumps. Fine particles are OK and will integrate when baking, but large clumps are likely a result of your cream cheese being too cold.
Add 1 tsp. vanilla extract, cream fraiche, and Creamy Peanut Fatbutter®️. Mix on medium-low speed until smooth.
Add in each egg one at a time. Once each egg is mixed in, add in the next. Mix on low speed until combined.
Pour filling over the cooled crust. Bake cheesecake for 55-60 minutes at 350. It's done when the outer edges two inches are set, but the center jiggles slightly, similar to Jell-O.
Turn off the heat, but leave the cheesecake in the oven with the door cracked open for 45 minutes to an hour to let cool.
Refrigerate, uncovered, for 4 hours or overnight in fridge. If you cover it, the condensation will ruin the cake, so don't do that.
When you're ready to serve, remove from the fridge and let sit for 30 minutes.
Meanwhile, make the ganache drizzle. In a double boiler or microwave-safe bowl, add the chocolate chips and coconut oil. Melt until smooth. Stir in the vanilla extract at the end. Drizzle with spoon, piping bag, or pour warm mixture in a quart-size plastic bag. Carefully tilt chocolate mixture to one corner of the bag, cut a tiny portion of the tip off to create a makeshift piping bag. Drizzle on top of the cake in zig-zag lines. Serve with crumbled collagen PB cups or roasted peanuts on top, if desired.