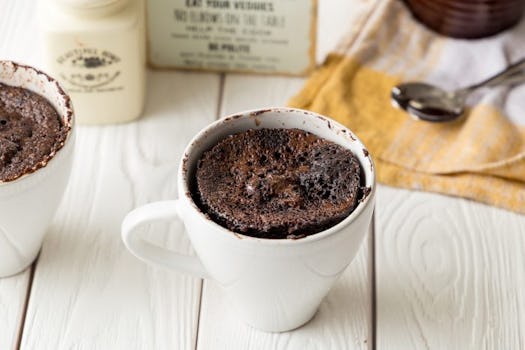 Keto Chocolate Hazelnut Mug Cake
| | |
| --- | --- |
| Yield: | 1 mug cake |
| Difficulty: | |
| Prep Time: | |
| Cook Time: | |
| Total Time: | |
Ingredients:
3 tbsp. Onnit Chocolate Hazelnut Fatbutter®️
1 tsp. Lily's stevia-sweetened mini chocolate chips
1 tbsp. grass-fed butter or ghee, melted
½ tbsp. cacao or cocoa powder
1 large egg
3 tbsp. almond or hazelnut flour
½ tsp. gluten-free baking powder
¼ tsp. Stevia Sweet Leaf drops*, vanilla creme
Pinch Himalayan salt
Directions:
In a small bowl, mix the mini chocolate chips with 1 ½ tbsp. of the Fatbutter®️. Using your hands, gently roll and form this mixture into a ball. Place in refrigerator to firm up while you move onto the next step.
In serving mug of choice, mix together the remaining ingredients until thoroughly combined and a batter-like consistency is formed. You might have to heat the remaining 1 ½ tbsp. of Fatbutter®️ for 10 seconds in the microwave so that it can be easily mixed in.
Remove the chocolate Fatbutter®️ ball from the refrigerator. Carefully place into the center of the batter, pushing down until mostly covered by batter but not all the way to the bottom.
Microwave mug for 50 seconds, or until the cake is barely set, and the center is a rich, chocolatey, molten lava mouthful of joy. You'll understand soon.
Notes:
*If you don't have this on hand, you can substitute with ¼ tsp. vanilla extract plus 2 tsp. granular sugar substitute of choice, like erythritol-based "Swerve," Stevia powder, or monk fruit.