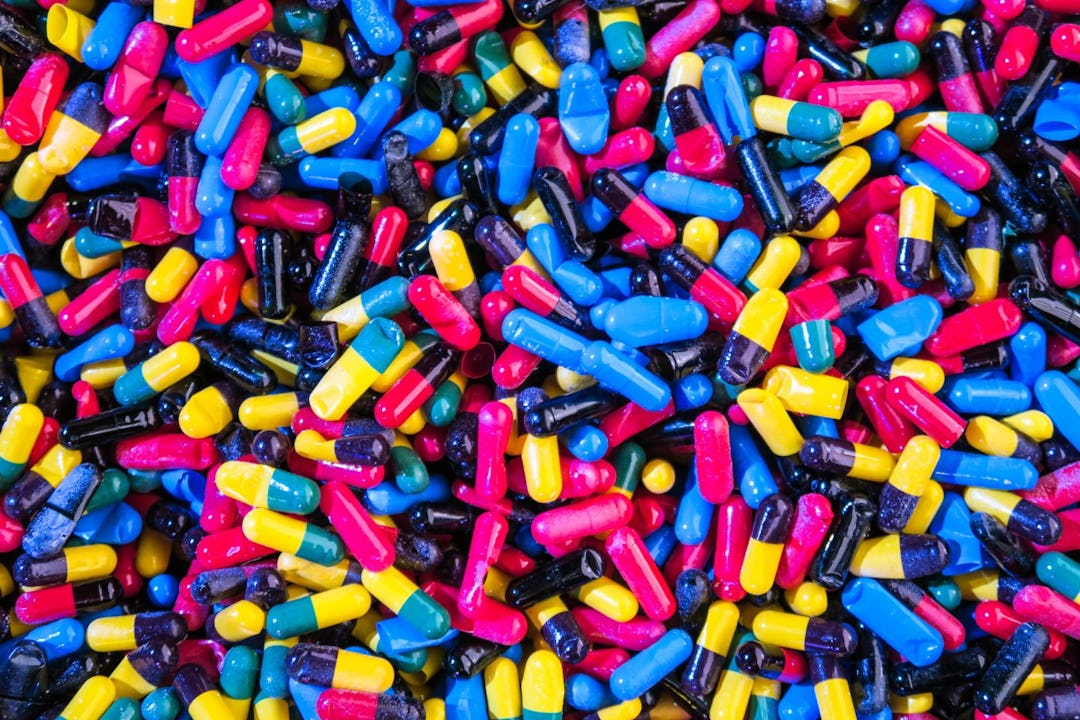 What's In Your Supplements? How NSF Certified for Sport® Certification Protects You
One of the biggest misconceptions about the supplement industry is that it's totally unregulated. According to some skeptics, supplement manufacturers answer to no one, so your bottle of protein powder could just as easily be sawdust. But unless you buy your supplements out of the back of a covered wagon from a guy in a top hat who also hawks "snake oil," you have no reason to be that paranoid.
By the same token, you shouldn't take anyone's word that a supplement is safe and contains what its label claims, unless it's backed up by a respectable third party.
The Food and Drug Administration (FDA) monitors supplement companies to see that their manufacturing practices are safe. The FDA inspects facilities to ensure that companies manufacture products that meet the specifications they've promised for identity, purity, strength, and composition. It also provides guidelines to companies so that they don't make misleading claims about what their products can do. But the FDA doesn't have the enforcement capability to guarantee that supplement makers play by the rules, and that leaves plenty of wiggle room for dishonest companies to cheat their customers. For instance, they may not use as much of an ingredient as they claim to in a product, and it may not be of the quality that they promise.
This is why responsible supplement producers ask an independent, third party to certify that not only are their products free of potentially harmful substances, but that their formulas and label claims are as accurate as they say. The gold standard for dietary supplement product certification is NSF International's Certified for Sport®.
Who Is NSF International?
NSF International is an independent, accredited public health and safety organization. Originally founded in 1944, NSF has an impeccable reputation for certifying the quality of water systems, food, and dietary supplements. In response to the growing concern about banned substances in sports supplements, NSF created the Certified for Sport® program, which certifies that what is on the label is in the bottle and that the product does not contain unsafe levels of contaminants, prohibited substances, or masking agents. Certification also means that supplement manufacturers and their suppliers meet stringent guidelines developed through a consensus process involving regulatory, industry, and consumer groups.
There are other organizations that test supplements to verify safety and potency, but NSF is the most widely recognized, especially in professional sports. NSF Certified for Sport® products are the only ones MLB, NHL, and CFL teams are allowed to recommend or provide, and the NFL, PGA, and many more sports governing bodies strongly support them as well.
Why Aren't Supplements Regulated Like Drugs?
Drugs must be proven safe and effective before the FDA will approve their sale, but for supplements, it's the other way around. Because they're derived from foods and other natural substances and have a history of use, they're assumed to be safe until proven otherwise, so they aren't held up to the same scrutiny that drugs are before they're brought to market.
In 1994, Congress passed the Dietary Health and Supplement Education Act (DSHEA), placing dietary supplements in the category of foods. Under DSHEA, supplement manufacturers are not required to prove that their products are safe or effective with clinical trials, if using ingredients in commerce prior to October 25, 1994. The FDA has the power to stop a supplement company from producing a dangerous product only after the FDA can prove it's dangerous—i.e., after it's caused harm. This is an unfortunate loophole that explains how so-called "health" supplements can be both legal and potentially detrimental at the same time.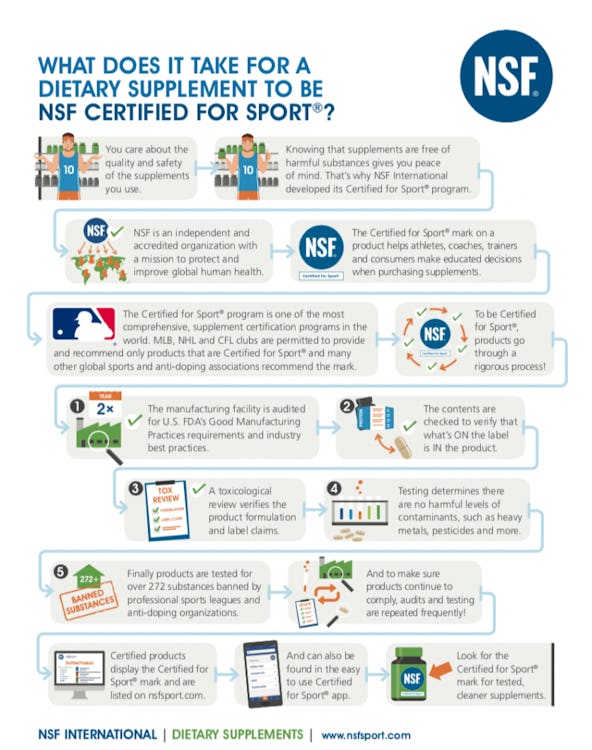 Why Should I Make Sure My Supplements are NSF Certified for Sport®?
While the supplement industry isn't as dangerous as some would like to believe, you're still at risk for buying products that contain ingredients that aren't safe or legal. A 2016 study found oxilofrine—an illegal stimulant—in 14 different dietary supplements. Two years earlier, another unapproved stimulant, DMBA, was found in 12 products. In 2013, the Journal of the American Medical Association reported that dietary supplements account for half of all Class 1 drug recalls in the U.S., and in 2004, the International Olympic Committee revealed that 15% of 634 supplements tested from 13 different countries contained steroids.
Consumers should realize that there are more than 15,000 facilities that manufacture dietary supplements, and more than half exist outside the U.S., where standards of practice may be poorer. Fewer than three percent of these are audited annually, and when they are, two-thirds are found to have violations.
A 2015 review of cases of inadvertent doping via supplements determined that as much as 8.8% of all doping incidents in sports could be attributed to taking dietary supplements. Researchers concluded that "The potential for supplement use to result in doping infringements is likely to be of concern for anyone involved in sports nutrition."
Just ask Rob Ninkovich. The defensive end for the New England Patriots was suspended for four games in 2016 for testing positive for a banned substance he didn't know he was on. "Any supplement I've ever used was bought at a store," he told ESPN. "I was unaware something I bought had a substance in it that would give me a positive test because it wasn't listed [as an ingredient on the label]. One thing I have learned is that if a supplement is not NSF certified, there are no regulations that ensure that what is on the label is 100 percent accurate. That is a hard lesson for me to learn at this stage in my career, but I take responsibility for it… Few things are more important to me than my name and reputation. This might call that into question for some, which has me heartbroken."
Ninkovich isn't the only big name that's had to fight to maintain credibility due to dubious supplement taking. In 2008, swimmer Jessica Hardy tested positive for clenbuterol—an asthma medication that dopers use to enhance muscle growth—which she blamed on a supplement one of her sponsors provided her. Despite setting two world records that year, her failed drug test cost her an appearance at the Olympics in Beijing and a one-year suspension. Liverpool soccer player Mamadou Sakhou and former IBF super-middleweight boxing champion Lucian Bute have faced similar scandals in the past few years.
What Substances Could End Up In My Supplements?
Products that aren't tested by a responsible third party such as NSF give the consumer little assurance that they contain what is shown on the label and do not contain potentially harmful substances. The following ingredients may or may not appear on their labels, and have been linked to health problems.
Geranium. For years, sports supplement labels claimed that DMAA, a stimulant now banned by the FDA, is a natural constituent of the geranium plant, but research has shown otherwise. According to the NSF, it's been associated with several health risks and even death, but it continues to be found in dietary supplements.
Steroid precursors. Prohormones that contain "andro" in their names, such as androstenedione, are precursors to testosterone and are controlled substances.
Bitter orange. When the weight-loss supplement ephedra was banned, many manufacturers turned to bitter orange for its similar effects on the metabolism, but it can increase blood pressure, contributing to cardiovascular problems. It's often sold in combination with other stimulants that provide an even more powerful—and dangerous—effect.
"What gives the supplement industry a bad name is those unscrupulous manufacturers who are deliberately adding things to products that they know they shouldn't in order to make them work better," says Chris Mohr, Ph.D., R.D., a nutrition consultant for athletes and corporations (mohrresults.com). "A lot of times, small supplement companies try to make a big splash by producing products with banned substances and hope to fly under the FDA's radar because they think they're small enough to not be caught," says Mohr. "If they are caught, the fine they have to pay usually doesn't outweigh the money they made on the product. The same people can then start a new company under a new name." It's a despicable cycle, and Mohr says it doesn't happen often these days, since the supplement industry has improved its standards, but it's a reminder to use caution when buying supplements—especially those that aren't third-party certified.
A bad batch of supplements can also be the result of careless manufacturing that leads to cross contamination. "Your creatine, for example, might have something in it simply because it was made in the same vat that contained a banned substance," says Mohr.
"If you're an athlete who tests positive because of a dietary supplement you didn't know was contaminated, you suffer most. The company that made it might get a slap on the wrist, but you could have your medals taken away through no fault of your own."
How Does A Supplement Become NSF Certified for Sport®?
There are numerous quality components of the Certified for Sport® program. To earn the Certified for Sport® mark, a supplement must:
Be manufactured at a facility that complies with the FDA's Good Manufacturing Practice (GMP) requirements.
Be audited on-site twice annually for quality and safety by NSF to comply with the FDA's GMP standards and NSF's best practices.
Contain ingredients that match what is printed on the label. All label claims and formulas are tested and verified by NSF.
Not contain potentially unsafe levels of contaminants, toxins, heavy metals, fraudulent ingredients, and more as tested by NSF.
Products are tested for more than 272 substances that are banned by major athletic organizations and anti-doping associations, including beta-agonists, beta blockers, cannabinoids, diuretics, hormones, masking agents, narcotics, steroids, and stimulants.
Furthermore, NSF uses customized test batteries for each type of supplement they review, so that the problems unique to that type of product can be fully exposed. For example, botanical supplements are screened for pesticide residues. NSF tests for other potential contaminants as well, including allergens, herbicides, mycotoxins, toxic metals (such as arsenic, cadmium, lead, mercury), and bacteria (e.g. E. coli, Salmonella).
Finally, NSF tests to verify the supplement's ingredients, comparing what they find to the claims made on the label. If they don't match, (say, the actual amount of whey protein per serving does not equal the amount listed on the label)—the product does not meet the requirements of the program to bear the NSF Certified for Sport® mark.
Simple as that.
Better still, none of this is a one-and-done process. NSF conducts ongoing audits and testing to ensure compliance.
"A lot of times, athletes can't get all the nutrition they need through food alone, so supplementation is necessary," says Shannon Ehrhardt, R.D., a performance dietitian with EXOS, Onnit's partner in performance nutrition. "An athlete's career is his or her life, and I've heard too many stories about athletes suffering major setbacks because they were given or were using a supplement they had no idea could put them at risk for suspension, or worse. Any supplement that I recommend to my athletes must be third-party certified, and I trust NSF. I take every precaution to ensure my clients' safety so that they can focus on their training and performance—and that includes educating them on the importance of third-party testing for supplements."
"I recommend NSF Certified for Sport® supplements to all the athletes that I consult for," adds Mohr. "NSF certified products help guarantee that athletes won't have any issues if they're asked to take a drug test."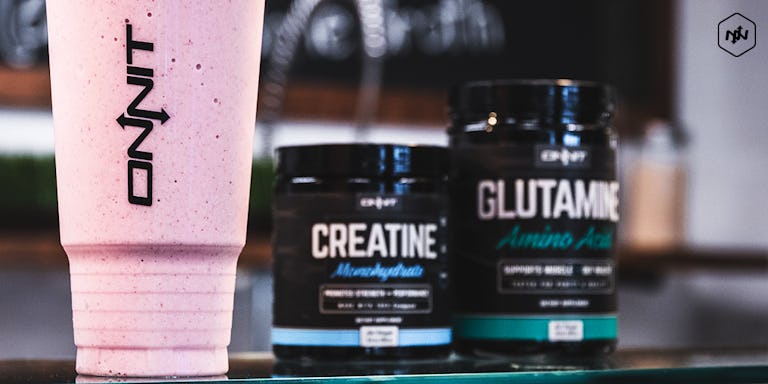 Which Onnit Supplements Are NSF Certified for Sport®?
Onnit has earned the NSF Certified for Sport® mark on its Creatine, Glutamine, Grass-Fed Whey Protein Isolate, Joint Oil, and Instant Melatonin Spray supplements, and is working toward getting other products certified.
Some supplements may never bear the Certified for Sport® mark, but that doesn't always imply that their quality or safety is any less. Onnit is cooperating with NSF to certify as many products as it can. However, due to the in-depth nature of NSF's GMP, label claim verification, and testing, and the complexity of some of Onnit's products, the certification process is extensive and can take time.
In the meantime, Onnit does provide assurance of safety and purity through other third-party testing agencies who share NSF's goal of providing consumers with trustworthy products. More than a half-dozen of Onnit's products are certified drug-free by the Banned Substances Control Group (BSCG), including Alpha BRAIN®, Shroom TECH Sport, and Total Strength + Performance.
Will The Supplement Industry Get More Regulated?
Earlier this year, Orrin Hatch, a senator from Utah and the main proponent of DSHEA, announced that he would retire at the end of 2018. His departure could open up DSHEA for review. "DSHEA is really meant to protect supplement contract manufacturers," says Jason Havey, Onnit's COO. "I don't think it's going to change in the immediate future, but legislation that forces companies to get their products third-party tested may be coming. My personal opinion is that the supplement industry is too well protected. There isn't as much oversight as there should be, and that's one of the unfortunate reasons that a lot of people don't trust supplements and won't take them."
Havey says the time is right for some company to emerge as the trusted leader in supplementation, and he hopes that NSF's Certified for Sport® certification will help Onnit be that company. "We already go above and beyond what's required of us," he says, "by putting our products through clinical trials and then publishing the findings no matter what—whether they're positive, negative, or neutral. We put money into full-scale stability testing so that we can put accurate expiration dates on our products. That isn't required by law, but it should be. But having products certified by NSF really shows we're putting our money where our mouth is.
"It's a significant investment in up-front costs," says Havey, "but the long-term benefit is enormous. The value of the NSF Certified for Sport® mark is more than just allowing us into pro athletes' clubhouses—it gets us the trust of the public. That's the kind of trust we have to build with consumers because, long-term, that's going to be the norm. We're already at where every other company should be."
Pick up Onnit's NSF-certified products HERE.