The most results-producing Combine preparation program in the country just got better!
Joe DeFranco's client list boasts over 100 NFL football players from all 32 NFL teams. His impressive list of clients started developing back in 2000, when he prepared his first group of college football players for the NFL Combine. The incredible performances that his athletes put forth couldn't be ignored. The rest, as they say, is history…
No other trainer or gym has produced the RESULTS and consistent "Cinderella stories" that Joe and his staff has produced for close to two decades. There may be gyms that have prepared more athletes for the Combine, but you'll be hard-pressed to find anyone that does it better than DeFranco's.
Here are two interesting facts regarding DeFranco's impact on Combine training:
FACT #1: Joe DeFranco was the first person to "expose" the Combine tests
Back in 2002, Joe shocked the football world when he released his "Mastering the Football Combine Tests" VHS tape. This was the very first product of its kind and proved Joe to be the pioneer with regards to Combine preparation. Before that tape was released, there wasn't any information available that explained how to achieve technical mastery in each Combine test. Most people believed that you were either a good "combine guy" or you weren't. But Joe changed all that. He researched each test as if it were an Olympic event and figured out the most efficient way to perform each. Apparently, Joe's techniques worked. One of his very first clients, Kevin Kasper, broke 3 all-time Combine records during the 2001 NFL Combine. His 20-yard shuttle record (3.73 seconds) hasn't been broken in 13 years.
FACT #2: When NY Times Best-Selling Author, Tim Ferriss, needed to learn how to "hack" the NFL Combine for his 4-Hour Body book – he sought out Joe DeFranco.
Tim could have chosen any "Combine expert" in the WORLD, but he chose Joe. Apparently, he made the right decision. After training with Joe for just 2 short days, Tim shaved .33 seconds off his 40-yard dash and added 3 inches to his vertical jump!! Tim was so impressed with Joe's methods that he dedicated two chapters to Joe's Combine training in his book!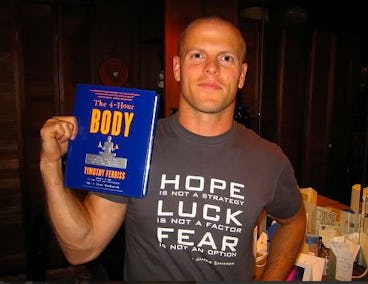 Although DeFranco's Gym has worked with its fair share of 1st & 2nd rounder's, a Combine trainer's true worth lies in his/her ability to prepare small school kids and "long shots". If you can help these kids get into the League, you can help anyone. This is what separates the great gyms from the good gyms….and this is what has separated DeFranco's Gym from everyone else for the past decade.
Here are just a few of DeFranco's "Cinderella" success stories…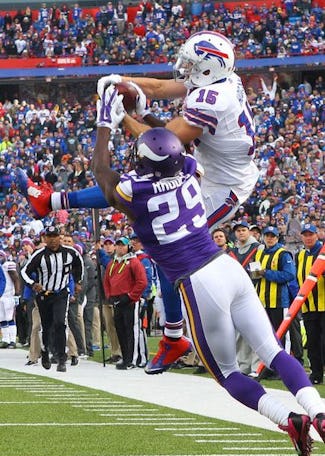 Here are a few other athletes Joe DeFranco has worked with during the course of his Combine training career:
Bryan Thomas, UAB defensive end – 1st Rd Draft Pick, NY Jets (2002)
Deion Branch, Louisville wide receiver – 2nd Rd Draft Pick, New England Patriots (2002)
Michael Haynes, Penn State defensive end – 1st Rd Draft Pick, Chicago Bears (2003)
Osi Umenyiora, Troy State defensive end – 2nd Rd Draft Pick, NY Giants (2003)
David Diehl, University of Illinois offensive line – 5th Rd Draft Pick, NY Giants (2003)
Deon Anderson, UConn fullback – 6th Rd Draft Pick, Dallas Cowboys (2007)
Tony Fiammetta, Syracuse fullback – 4th Rd Draft Pick, Carolina Panthers (2009)
Mychal Rivera, Tennessee tight end – 6th Rd Draft Pick, Oakland Raiders (2013)
Steve Beauharnais, Rutgers linebacker – 7th Rd Draft Pick, New England Patriots (2013)
The new DeFranco's Gym at the Onnit Academy offers everything an athlete will ever need in order to prepare for the NFL Combine.
You can choose to do our "Premium Package" (which includes everything listed below), or take an "a la cart" approach and incorporate only the services you choose.
Here are the services we offer our Combine clientele:
Housing
Transportation to and from facility
Combine-specific event training: 40-yard dash technique, Vertical Jump technique, Broad Jump technique, 20-Yard Shuttle technique, 3-Cone Drill technique, 60-Yard Shuttle technique, Position-specific football drills
Upper & Lower Body strength training
Flexibility & Mobility training / Yoga
Nutritional counseling and food preparation
Onnit Supplements (specific to each athletes individual needs)
Cryo therapy
Infrared Hybrid Sauna
Massage & Soft tissue therapy
Online Exposure (DeFranco Combine/Pro Day clients will be featured on our world-renowned Youtube channel (which boasts over 20 MILLION video views), social media sites, blogs, etc. No other training facility in the world will provide the exposure that you will receive when training at DeFranco's. NFL scouts, coaches and other player personnel will know exactly who you are and what you're physically capable of before the Combine or your Pro Day if you train at DeFranco's. This is especially important for "lesser-known" athletes that are projected to go in the mid to late rounds. The online exposure we provide is one of the reasons we've had so much success getting small school kids and "long shots" into NFL camps.
In-house Barber Shop – We believe that when you look good, you feel good – and when you feel good – you will perform good! We know that being away from home (and away from your barber) for a few weeks can be stressful, so we got you covered! Literally no stone is left unturned when you come to DeFranco's Gym at the Onnit Academy!
All this in one of the best cities in the country!