Skateboarders, as they're usually portrayed in movies and on TV, are anything but gym rats. They're skinny, smoke cigarettes, and live off a diet of 7-Eleven burritos and Big Gulps.
And then there's Chris Cole, 34, from Philadelphia, who's proving that the stereotypes are just that. The pro skateboarder and Street League Super Crown World Champion is a family man, reformed eater, and is obsessed with core training—but he's still street punk enough to kick your ass if you attack him in a night club in Russia (more on this later). Cole, who's also passionate about 80s cartoons, stopped by Onnit headquarters in Austin, TX, to talk about how to be a better skater, how he deals with fear before dangerous tricks, and why skateboarding not only won't destroy your community but might actually save it.
Q&A with Pro Skateboarder Chris Cole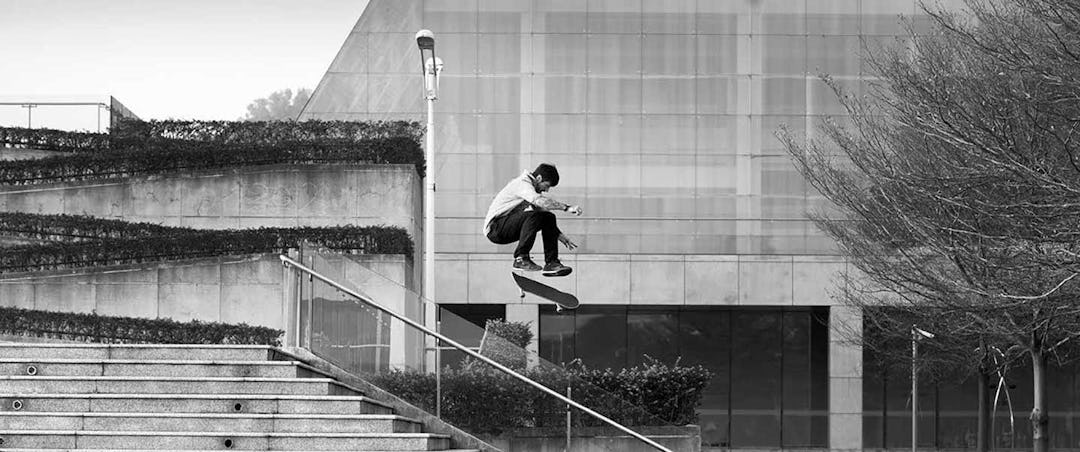 Onnit: What tips would you give people who want to get back on a board? Who haven't skateboarded since they were kids?
Cole: Find a board that looks fun to you. That's the most important thing. If you like the look of it and it looks cool under your feet, you're going to want to skate it. It's going to feel weird at first—you'll probably want to tighten your trucks more—so just start slow. Go out and roll around and have a good time. Get the feeling of the board.
Is there a point of no return? Can a guy over 30 really expect to get the hang of a board again?
You can totally get the hang of it. It's definitely tougher, but if you can develop body awareness, you'll get it. Set a short-term goal. Start with simple moves like tic tacs, ollies, 180s. You'll build up these little Lego pieces and then go on to the more technical stuff. At that point, you'll just stack these pieces you've already learned. So for a lot of the cool tricks you want to do, you don't have to ever really learn that trick, you'll just be able to DO that trick once you've got the basics down.
What was the first cool trick you were able to pull off?
I remember the first kickflip I did. An older kid showed me how. He put his front foot on the edge of the board, vertically, so his whole foot was on the board. That's how he was kick-flipping. So I started trying it like that and the board was flipping over. I thought this was incredible. Then I immediately realized that I don't need to have my whole foot on the board. I can turn my heel out and keep my toes on the board. Pretty soon I did a kick-flip over a Campbell's soup can. That was like the first magic trick. The kickflip is the first one where you really manipulate the board—it's not by accident.
What's the best skate park in the world, or one everyone should visit?
It sounds cheesy but the House Park in Austin is exceptionally good. It's so big and has so much to offer—little handrails, big handrails. It has something for everyone. If you're over 30 and looking to get back into it, that's where you should go. You can go from beginner to advanced in the same place.
How can kids who are obsessed with skateboarding get discovered and make it a career?
Have a decent amount of little-brother syndrome. Skater harder than anyone. When I did it, it was a little bit of a different game. You had to film yourself with your friends and edit a "sponsor-me" VHS tape and send it to a company and hope somebody watched it and would call you. Now you can use Youtube. I filmed a trick a day every single day for a long time. Every time I skated in front of anyone in any contest, I always hit it as hard as I possibly could. That's what does it. If you have a great video, that will help, but if you skate hard as hell every time somebody's around you, you'll succeed. If you can kick it live. Because that's what really matters. People want you to act like, wherever you're performing, that's the only town that you're going to be.
What should people look for in a board?
If you're bigger you should have a bigger board. I ride an eight and a half, which is pretty big. Think of the board as a wrench and you have a bolt you want to tighten. If you're a big dude, you need a long wrench. A skinny board will have your feet hanging off the edges. You want a good amount of clearance, probably an inch-and-a-half clearance from the top of the wheel to your deck so you don't wheel-bite immediately when you start a turn. That's kind of it. Your trucks should be tight until your nerves from your feet to your head are developed. A skate shop should be able to help you.
What's the worst injury you've had skateboarding?
I crushed three discs in my back last summer. That was rough. I'm still on the road to recovery, strengthening my core. I've been doing deadlifts, kettlebells, even simple things like bear crawls and tightening my obliques when I'm in the car, and breathing. I keep the core firing as much as I possibly can.
My hip mobility is so limited from years of scar tissue due to skating, and sitting in the car. People don't realize that skaters drive a lot. I'll drive three hours in LA traffic just to skate. That whole time you're just crunching your hips up. When you get out of the car you're shaped like your seat.
I think also that not stretching after a workout, which most people don't, is as crippling as anything. You can't go from a workout right back into sitting in a chair.
How did you hurt your back?
I jumped off of a handrail to the ground in New York. I landed really straight-legged with my back fully arched. All three discs went at once. They were bulging. I went to chiropractor after chiropractor and nobody could put them back into place. My wife made me get an MRI and it was like "Dude, you're fucked." They told me I needed to strengthen my core. I had inguinal hernias on both sides that I didn't even know about and that made me not use my core for years, so I was just loading a lot of force onto my back all that time and didn't even know it.
Strengthening my core made me feel five years younger in two months time. You know that feeling you get when you get out of bed and groan? That feeling minimized with the core training. I like doing rollouts with an ab wheel. My dog hates the wheel—he tries to bite it the whole time.
What are your tips for dealing with fear before stunts?
There's a whole lot to be said for somebody who assesses risk well. People who don't assess risk and have no fear are gone before you hear about them. When I go up against a scary trick, I think to myself that the regret of not trying it is so much worse than the fall that I'll take when I try it. I'd rather fall on my neck than not try. Once you've decided that you can do it, it's "no brains, no headache." You can turn it off and you'll be fine. Having a wife and kids hasn't changed my perspective, because when that moment comes I already know that I can do it and family just becomes an extra motivator. The only time skateboarding has ever felt like a job to me is when I'm scared and I still have to go.
If I end up knocked out, is that the worst thing? I've been knocked out. I've seen the white wall—everything goes white and you still hear people speaking around you but you're not home. I knocked out my teeth in seventh grade. I landed facing backward, the board shot out from under me, and my face hit the ground. I had gravel in my chin and had gravel stuck in my teeth.
How did you come up with the "Live rad, die proud" slogan?
That came up because I needed a write-up for social media. I just did it in two seconds. That's just how you should be in my mind. In the end, what you have is stories and memories. What do you want them to look like? I want my life to be the life story I'm writing in my head.
Have you ever had a so-called "real job?"
No. I was a paperboy for a minute in Philadelphia. I started in the dead of winter and I remember waking up at 5 a.m., having to load up the papers, and seeing the snow dust sidewinder across the street in the wind. I knew this job was not for me. Then I was a dishwasher for two months. All I had to do was show up one day a week, and I'm pretty sure I called out three times. I didn't even want to plan anything in my life that would take time away from skating. The idea of missing out on a skate session was too much for me.
How many hours would you estimate you've spent skating?
I actually did this math pretty recently. Super rough guess but I think at this point I'm probably around 21,000 hours of skating in my life. I read Malcolm Gladwell's Outliers and he said it takes 10,000 hours to be an expert and I decided to figure out my hours.
How much of your skating ability do you think is talent versus hard work?
It's a very good marriage between the two. I think that hard work will get you further and talent seems to be taken for granted. Talented people fade away because they don't know what they have and they don't work hard. In skateboarding, the checks come in the mail. So it's on you to show up for work. You have to make it happen for yourself. The people that do the work, they stick around.
But you are born with certain things. I had my brain mapped a couple years ago. What they found was that my attention was very low—and I have ADHD, so, duh. But how quickly my brain processes information is extremely quick, and so was my impulse control. It's like when somebody throws a baseball at your face and you get out of the way—I have that ability and it helps with skating, like when you're making a split-second decision after you kick-flip into a handrail and you know you did it too slow and know you have to save the trick or bail.
What has your physical training been like throughout your career?
It was non-existent for a really long time. I started going to the gym because my wife started going. Seeing how hard she worked and the benefit of it got me into it. That got me to appreciate the gym, beyond what I had experienced in high school. Without that, I wouldn't have known there was a place like Onnit, a place where it's cool to work out.
When I was a skater kid, gyms weren't cool. That's where the bullies and jocks were. It was a big judgment fest. It wasn't about being an athlete and getting better at what you do, it was just about getting big muscles. I didn't subscribe to that. Seeing the gym through what my wife was doing changed everything. I started going to build up conditioning. I was doing a bunch of cardio drills, Versaclimber. I wanted to be able to make it through a run on the board without getting winded, because skateboarding is all explosion followed by hyperventilation. After I hurt my back, it was all about strengthening the core and getting mobility back, on top of building muscle for stability.
I have kettlebells and battle ropes at my house. I like to do as many "man workouts" as I can—like Rocky IV training. It's just basically getting physical. We have a giant California oak that fell down in my yard and I'll go out with my kids and just chop at it with an ax. Sometimes I'll pick up my daughter with one arm and climb a steep hill. I do stuff like that throughout the day. I have a pullup bar in my closet and every time I walk by it I'll knock out a couple reps. I need to go to the gym—and I very much like to—but if I can't, then it's very beneficial to just drop and do 20 pushups at random.
Your diet?
I just started eating better pretty recently. [Onnit CEO] Aubrey [Marcus] was telling me and [UFC fighter] "Cowboy" Cerrone, "I don't care if you eat the bad stuff, but you have to eat the good stuff too." To start off, just eat more healthy foods in addition to what you're already eating. I eat a protein, a starch, and a veggie every meal, but I used to eat badly on top of that, like Oreos and milk. I've gotten better about curbing that. Now I eat something like eggs, avocado, and a high- quality toast at breakfast, and that was a complete game-changer for my energy. The more I do that, the better I feel and the better my day goes.
What supplements are you taking?
I've been running Alpha Brain and Total Strength and Performance before workouts. The Total Strength actually gets me stoked to drink more water. It flavors it but you also feel the effects not just of the supplement but of how much water you just drank—the hydration. I'm drinking way more water during the day and I wasn't doing that nearly well enough throughout my entire skate career before. I take New Mood before bed, which helps me manage stress. With Alpha Brain, I honestly feel like it makes you more alpha. It allows you to assess all your options and then make a decision, rather than be like "eh." I feel like it makes you more assertive.
Skateboarders tend to get a bad rap as street punks who cause trouble. Can you comment on the positive things they've done in their communities?
They do get a bad rap because they come from a counter-culture movement. If you didn't fit in with traditional sports and you wanted to work alone you were one of the outcasts. Nowadays it's way broader. Those outcasts have grown up. They have kids of their own. Their kids skate and they skate with their kids. You have engineers, doctors, doing it, and they see it completely differently.
Skating gives everyone their own set of goals to obtain, and it's all self-motivated. You can chip away at those goals every day and get a little bit of a win. That never ends. It's healthy, you're doing something physical and you're not inside. It keeps kids busy. When a skate park comes to town, people think, "Oh no, we're going to have all these heathens around." But people are busy skating. Now they're not fighting or getting into mischief. When I grew up, my friends and I were pretty good kids, but some of the stuff we did was super bad because we were just bored. And that was even with skating. So when you don't have skating, that's when you have kids do real bad stuff, getting in gangs and selling drugs. That's when you lose your kids.
The skating community accepts everyone. There's no skinhead skate groups. It doesn't matter who you are, what race you are, gender, sexual orientation. You're cool in skateboarding. And it doesn't matter what level of skater you are either. You don't get teased if you're not good. We cheer for everyone. I'll still skate with anyone.
On the flipside of that, there was an incident you had in Russia on the Ride The Sky Premiere tour. You got into a bar fight. Can you talk about that?
We were on tour—three weeks of going from city to city to premier a video. Very minimal skating. We'd premier the video during the day, skate around a little bit, and then go out at night. It quickly became a three-week drinking trip. Our last stop was in St. Petersburg, Russia. We were at this bar and had been drinking for a while. They were just throwing vodka shots at us nonstop. The bartender was this hot chick and her boyfriend was at the bar and he was hanging with my homeboy and telling him, "You've gotta kiss my girlfriend."
My friend was like, "What? Alright," so he started making out with her. It turns out that the Russian guy thought my buddy was a pro skater that he had grown up watching. He said, "Jamie, you're the sickest!" My friend was like, "Oh… right… Jamie. You got it. See ya." And we tried to leave. At the same time, this guy on the dance floor was acting a fool, elbowing people and just being obnoxious. Our filmer was there and he said the guy just elbowed him in the head. So he and the guy on the dance floor—and his buddies—all end up getting in a physical altercation while the guy at the bar finally realizes that my friend is not his idol Jamie.
All of a sudden there's fighting in the crowd, there's fighting on the stage. I find the guy who's been elbowing everybody and end up fighting him. I end up kneeling on his chest and punching him in the face until he doesn't want to be punched anymore. I looked up and saw my friend who had been making out with the girl being choked by a dude, punching two different people, and getting punched by a girl. I'll never forget that image. I jumped up and clinched the guy who was choking him from behind. Turned out that dude was the bouncer!
Fortunately, at that point, they turned on the lights, the DJ played "You Gotta Fight For Your Right To Party," and they kicked us out [laughs]. We just went to the bar one door over.
We can see you like to live dangerously. Is your middle name really "Cobra," as your Instagram handle would imply?
No. We were going to name my son Wyatt Cobra Cole, but we chickened out at the last second and named him Wyatt Christopher Cole. I'm pretty sure we'll change his name back to Cobra though. But I thought of that when I had to come up with an Instagram handle so I threw together Chris Cobra Cole. It just stuck. I should probably change my name to Chris Cobra Cole just to own the intellectual property.
Were you inspired by G.I. Joe, or the bad-ass snake?
Both. But I love G.I. Joe like nobody else does. The cartoon movie from the 80s with Cobra-La was sick. That was such a good movie and it's still good. I remember when that premiered on TV and Sergeant Slaughter introduced it.
Good point. Did you think Pythona—the snake-faced Cobra-La operative who breaks into the base at the beginning of the movie—was hot? Because, er, we totally didn't.
Yes! the shaved, Skrillex haircut was really rad. That was totes skater punk. The pink-haired chick in Zartan's crew was hot too.

Follow Chris on Instagram at @chriscobracole