While intended to be an easy to grab-n-go snack, our new Elk Bar with bacon and bison can be repurposed in endless varieties. It adds spunk, flavor (and protein) to pretty much any dish. Who doesn't love a little more meat in their life? Am I right? Or amiright? Here are four recipes, designed to be incorporated into your weekly meal prep or simply enjoyed on their own as a meal or snack. However you choose to enjoy, our Elk Bar is sure to be a crowd pleaser (sorry, vegans).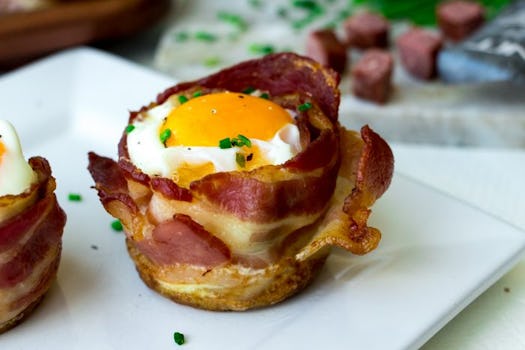 | | |
| --- | --- |
| Yield: | 6 egg cups |
| Difficulty: | Easy |
| Prep Time: | |
| Cook Time: | |
Ingredients:
12 slices bacon
6 pasture-raised eggs
1 Elk Bacon Bar, diced
½ organic yellow onion, sliced
1 cup shiitake mushrooms, thinly sliced
3 slices sourdough or sprouted grain bread
2 tbsp. raw sharp cheddar cheese, grated or shredded
Salt and pepper, to taste
Chopped chives or parsley, for garnish
Directions:
Preheat oven to 400 degrees Fahrenheit.
In a large skillet, partially cook the bacon, about 5 minutes. Don't cook to crisp! The bacon should be pliable. Drain on paper towels and set aside.
Drain the excess bacon fat into a small bowl, leaving about one tablespoon. Don't throw out the grease. We'll be using it soon. 4. Sautee the onions in the bacon fat on medium heat for about 5 minutes, or until they begin to soften. Then add in the shiitake mushrooms and diced Elk Bar.
Using the base of the muffin tin, carefully trace and cut a circle in the corner of the slice of bread. Then use this cut out as your tracing tool to cut remaining circles. Don't toss leftover bread. You can use it to make homemade bread crumbs, croutons or leftover bread pudding. This recipe can be made without the bread on the bottom for a keto-friendly version, but the "cup" doesn't hold together as well. Still works though!
Using rendered bacon fat, liberally grease a 6-ct non-stick muffin pan. Place a bread circle at the bottom of each muffin cup. 7. Now fit 2 slices of the partially cooked bacon around the sides in each cup, overlapping if necessary. This will line the sides of the muffin, forming a bacon "cup".
Place about 1 tbsp. of the onion-mushroom-elk mixture on top of the bread circle. Sprinkle with shredded raw cheddar, or cheese of choice.
Now, carefully break an egg on top of the cup. Sprinkle top of each egg with salt and pepper.
Bake at 400 degrees F for 18-20 minutes, or until bacon is cooked to crisp. Garnish with chopped chives and serve warm.
Notes:
*I suggest caramelizing the onions for this recipe and the 4-Meat Patty Melt together in the bacon grease. There's no such thing as too much caramelized onions. I usually make a bunch as part of my meal prep to throw in eggs, on salads or in bowls for a little extra some some. In this recipe, I added mushrooms for more veggies in my breakfast, but feel free to add any vegetables that make your insides happy!
Ingredients:
1 lb. grass-fed ground beef
1 Elk Bacon Bison Bar, diced small
4 small Portobello mushroom caps
½ organic yellow onion*
1 cup shiitake mushrooms, stems removed & thinly sliced*
4 thick slices raw Swiss cheese
½ cup sauerkraut
½ tsp. Himalayan salt
Ground black pepper, to taste
1 ripe avocado, sliced
#Ingredients (Smoky Russian Dressing)
½ cup avocado oil mayonnaise
¼ cup ketchup, no sugar added
1 chipotle peppers canned in adobo
1 tbsp. diced pickles
1 tbsp. pickle juice
Juice from 1 lime
Directions:
Preheat oven to 400 degrees Fahrenheit. Clean the mushroom caps with a damp paper towel and remove the caps. Place on a greased sheet pan. If you have a wire rack, bake on that to remove as much moisture as possible. Bake for 20 minutes.
While the caps are cooking, make the patties and sauce. In a medium mixing bowl, add the ground beef, diced Elk Bar, salt and pepper. Incorporate with clean hands, and form into four patties. You want the patties to be about ½" larger than the diameter of the portobello mushroom cap. It will shrink slightly. And don't forget to indent the center with you thumb because it will also raise in the center when cooking.
In a cast iron skillet (highly suggest greasing with rendered bacon fat) on medium-high heat, cook the patties to personal preference. Set aside.
If you haven't already made the sauteed onions and mushrooms from the egg cups, then cook those now. If you have that ready, then get crankin' on the sauce. Blend all sauce ingredients in a blender or food processor until smooth.
When Portobello mushrooms are done, remove from oven, and let cool. I like to remove excess moisture from them by wrapping in a paper towel and lightly pressing to remove liquid. Place back on sheet pan.
Turn up oven temperature to a high broil. All abut 1 tbsp. of the onion and mushroom mixture to the mushroom caps, then add the burger patty, and top with the slice of cheese. Place in broiler for about 3 minutes, until the cheese melts.
Remove from oven. Serve hot with sauerkraut, your homemade smoky Russian dressing, and sliced avocado.
Notes:
*Meal prep tip: Caramelize the onions and mushroom (in bacon grease) with the veggies for the egg cups. You will save yourself time and double dish duty.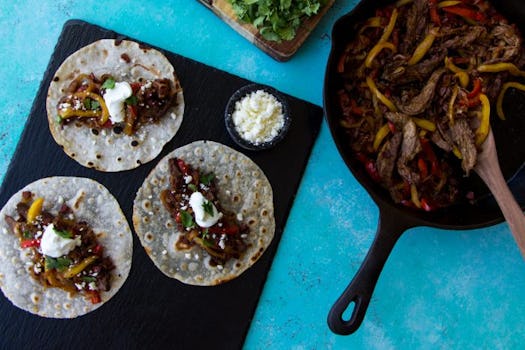 | | |
| --- | --- |
| Yield: | 6-8 servings |
| Difficulty: | Easy |
| Prep Time: | |
| Cook Time: | |
| Total Time: | |
Ingredients:
1 lb. grass-fed skirt steak, thinly sliced
2 Elk Bacon Bison Bars, minced
3 tri-colored bell peppers, seeds & membranes removed, thinly sliced
1 large yellow onion, thinly sliced
2 tbsp. unrefined avocado oil
12-16 Siete Cassava flour tortillas
Full-fat organic sour cream or Greek yogurt, to taste
Queso fresco, to taste
Fresh cilantro, for garnish
#Spices
2 tsp. chili powder
1 tsp. cumin
½ tsp. smoked paprika
½ tsp. garlic powder
1 tsp. coriander
½ tsp. Himalayan salt
Cayenne pepper, to taste
Directions:
In a large mixing bowl, add the skirt steak, minced Elk Bar, 1 tbsp. avocado oil and the spices. Toss to fully coat and set aside.
Add the remaining avocado oil, sliced onion, and sliced peppers to a large cast-iron skillet on medium-high heat. You can also add a little rendered bacon fat here from the previous recipes if you want to add a little extra flava flave because who doesn't love bacon? Sautee for about 5-10 minutes until the vegetables soften and are golden brown along the edges.
Push the veggies to the rim of the skillet, then add the meat in the center to cook. Once the meat is no longer pink--this will cook quickly--incorporate with the onions and peppers.
Serve elk & steak fajitas with a warm grain-free tortilla. We love using Siete's Cassava flour tortillas! To quickly char the tortillas, add a little bacon fat or avocado oil to a pan on high. Cook the tortilla for about 20 to 30 seconds. For a keto-version, forgo the tortilla and enjoy over jalapeno cauliflower rice.
Serving options: Serve fajitas with organic sour cream or full-fat Greek or Skyr plain yogurt for some added probiotics, queso fresco crumbles, and fresh chopped cilantro. If storing in fridge for meal prep, keep the meat, onions and peppers in an air-tight container, and the tortillas and toppings separate for maximum freshness.
| | |
| --- | --- |
| Yield: | 4-6 servings |
| Difficulty: | Easy |
| Cook Time: | |
Ingredients:
½ cup raw almond slivers
½ cup raw crushed cashews
½ cup raw walnut pieces
½ cup pecan halves
¼ cup blanched almond flour*
¼ cup unsweetened shredded coconut
2 tbsp. unrefined coconut oil
¼ cup organic maple syrup
¼ tsp. Ceylon cinnamon
½ tsp. Himalayan salt
½ tsp. vanilla extract
¼ cup dried tart cherries
1 Onnit Elk Bar, sliced 1" thick bites
Directions:
Preheat oven to 325 degrees Fahrenheit. Line a baking sheet with parchment paper and spray lightly with coconut or avocado oil.
In a mixing bowl, add the nuts, almond flour, shredded coconut, cinnamon, and salt.
Add the coconut oil and maple syrup in another bowl, microwave for 30 seconds or until melted. Stir in the vanilla extract and pour over nut mixture. Toss to fully coat.
Spread mixture flat on baking sheet. Make sure it's flat, but compact to ensure that clusters will form. Bake for 20 minutes. Flipping carefully at the halfway point.
Bake for an additional 7 minutes at 340 degrees Fahrenheit. Remove from oven, let cool.
Break into clusters. Add the tart cherries and elk bar pieces. Store in an airtight container to maintain freshness!
Notes:
*Can substitute ground flax meal here.